By YUAN SHENGGAO | China Daily Global |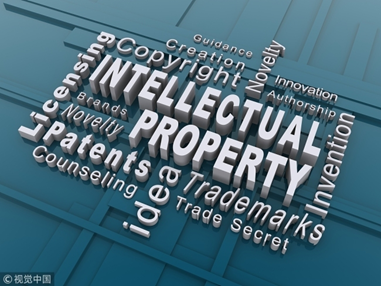 [Photo/VCG]
The 12th China Intellectual Property Annual Conference is scheduled to be held on Sept 19-20 in Jinan, capital of East China's Shandong province.
Focusing on the theme that IP supports innovation across the board, the event will feature internationalization, professionalism and high-end development, organizers said.
It will encompass more than 30 activities and open an exhibition covering an area of more than 8,000 square meters, with the numbers of exhibitors and exhibits both achieving a record high in the history of the CIPAC.
A display of products and services hallmarked with international patents and trademarks will remain a highlight of the CIPAC exhibition, showcasing the latest IP services from around the world.
And an exhibition section dedicated to geographical indication-marked products will grace this year's session and further push the theme of GI into the spotlight.
Products recognized in the China-EU Agreement on Geographical Indications — which was signed in 2020 and came into force in 2021 — as well as projects and products that have been promoted through the use of GIs will be introduced to visitors in the section.
As the majority of GI-marked products relate to a variety of agricultural produce from different regions, promoting the use of GIs is of great significance to rural vitalization, organizers said.
Consisting of 55 exhibition booths, the 2,500-sq-m GI show will also present more than 100 high-quality GI-marked products from across China, which will be on sale to help boost rural vitalization.
The host province, Shandong, is rich in GI-marked resources so it capitalizes on the show to flex its GI muscles.
The 2023 CIPAC is set to provide an exchange and display platform for innovators, IP service providers, financial institutions and GI users from around the world, said Liu Chao, chairman and editor-in-chief of Intellectual Property Publishing House, the host of CIPAC, at a news conference in Jinan on Monday.
To date, more than 10,000 people from more than 30 countries and regions have signed up for the upcoming event, including 160 IP experts who will deliver speeches, as well as representatives from nearly 60 foreign government departments and international organizations.
Since its inception in 2010, CIPAC has invited government officials, leaders of international organizations, executives of renowned businesses, and representatives of higher-education institutions, research centers and trade associations to share their insights into hot topics and the latest developments in the IP realm, including patents, trademarks and GI.
High-profile speakers have delivered speeches over the past more than 10 years. Among them are executives from Chinese innovation-driven businesses, such as Huawei, Alibaba, Tencent, Baidu, JD, ZTE, Gree, Lenovo and Xiaomi, and those from Fortune Global 500 companies including Google, Apple, Microsoft, Samsung, Intel, Sony, Dolby, Panasonic and Qualcomm.
At this year's session, speakers from another group of innovative businesses from home and abroad will join them. Newcomers on the list of big names include Guangdong Power Grid, Haier, Tsingtao Brewery, Inspur, Goldwind, iFlytek, Li Auto, Guangzhou Baiyunshan Pharmaceutical, Xiaoguancha, Ericsson, Nokia, Lilly, Emerson and the NBA.
In response to IP needs from innovators, the annual event aims to serve as a platform for international cooperation and exchanges and contribute Chinese wisdom to the global IP governance, Liu noted.
This year's conference will comprise one main session and 13 breakout sessions, covering IP protection, utilization, services, international collaboration and legal system construction, especially in the sectors of artificial intelligence, eco-friendly industries, the dual carbon targets, and biopharmaceuticals.
In addition, a group of statistics data, authoritative reports, and policies and measures will be released and a competition designed for fostering high-value patents will be held during the 2023 CIPAC, Liu added.
Yu Zhiyong, deputy head of the Shandong Administration for Market Regulation, said that Shandong is an IP-rich province and is at the forefront of the country in terms of IP creation, utilization, protection, management and service.
"Hosting the 2023 CIPAC is of importance to promoting exchanges in and commercialization of IP achievements, and optimizing the local business environment," Yu said.
"That will create a broader platform to showcase Shandong as well as Jinan's IP progress, build a bridge to link the international IP community, and provide easy access to IP information and high-quality services for innovations within and outside Shandong," he added.
Han Wei, vice-mayor of Jinan, said that as the birthplace of China's earliest recorded trademark, White Rabbit from a needle shop during the Song Dynasty (960-1279), the host city has a tradition of respecting IP.
Jinan integrates major reforms and innovations in the IP realm, as a model city to advance the national initiative of using IP to help cities grow strong and as a key city to participate in the national IP operation service system, Han said.
Preparations for the 2023 CIPAC have progressed smoothly, Han said. "Capitalizing on the hosting of the event, Jinan will absorb wisdom from all the parties involved, improve its IP creation quality, utilization, protection, management capacities and service level to explore more beneficial experience and make a greater contribution to building China into an IP powerhouse," he said.