By LIA ZHU in San Francisco | China Daily Global
Campaign gets support from over 1,000 faculty members, scholars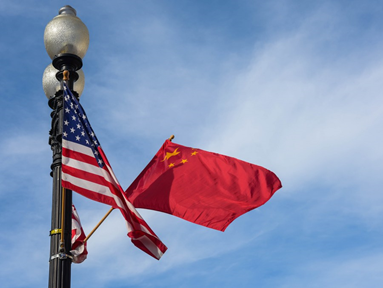 File photo shows the national flags of China and the United States. [Photo/Xinhua]
A campaign to urge the United States government to renew a deal with China on science and technology cooperation has quickly garnered the support of more than 1,000 faculty members and scholars in US universities.
The US-China Science and Technology Agreement, which was signed in 1979 and had been renewed every five years or so ever since, expired on Sunday.
A week before it expired, two physics professors at Stanford University — Steven Kivelson and Peter Michelson — launched the campaign to urge fellow researchers in the country to endorse their open letter to US President Joe Biden in the hope of keeping the agreement alive.
Within six days, the letter had been endorsed by over 1,000 academics, including several Nobel laureates, members of the National Academies, and members of the American Academy of Arts and Sciences.
"It is highly significant that a substantial number of scientists and related experts from the American scientific community publicly endorsed the renewal and continuation of the Science and Technology Agreement," Denis Simon, a professor of Global Business and Technology at University of North Carolina at Chapel Hill, told China Daily.
"The broad endorsement to remain engaged with China in science and technology reflects the high level of interdependence that has been built up over four decades of meaningful cooperation," said Simon, who endorsed the letter and has been heavily involved in the efforts to renew the agreement.
The deal has become the subject of controversy as some Republican lawmakers raised "national security" concerns and opposed its renewal. The Biden administration on Wednesday told NBC News that it was seeking a six-month extension to "undertake negotiations to amend and strengthen the terms "of the agreement.
"We certainly need to negotiate an agreement that can sustain bilateral collaboration for the next 40 years. That said, it is important for active scientists and other scholars to secure the endorsement of both governments that science and technology aspects of the relationship are important to both countries," said Simon, who recently resigned the post at UNC-Chapel Hill because of differences between him and the university over the issue of engagement with China.
The renewal of the agreement would "help revitalize current levels of cooperation and hopefully provide the added trust and confidence needed to open up new areas for cooperation, especially regarding pressing global challenges", he said.
"There is no pressing global challenge issue whose meaningful solution will not require some appreciable level of US-China collaboration," he added.
As about the so-called national security concerns, Kivelson and Michelson noted in their letter that the results of fundamental research at US universities are intended to be openly published so they are neither proprietary nor do they deal with classified information.
In addition, the science and technology agreement itself is "a broad umbrella agreement" that commits the US to no specific activities because activities aren't even listed in it, said Deborah Seligsohn, former science counselor at the US embassy in China and an assistant professor of political science at Villanova University.
"We don't actually have to do anything to change which topics we're working on and what we do because all of that is done under sub agreements," she said at a recent webinar on US-China research collaboration.
Secondly, almost no science and technology cooperation involves intellectual property creation, she said. "When we talk about things like working together on pollution abatement, we were using very old technologies; when we do public health, we're trying to generate public goods. When we do scientific research, most of what we're trying to do is produce peer reviewed publications that are open science," she said.
"I think it's important to realize that an enormous amount of the outcomes of this agreement are not actually in these areas (national security) that people worry the most about," she added.
The next six months will be pivotal to work out the provisions of a workable agreement, said Simon, calling on policymakers to focus on top priority issues.
"It is time to go beyond the legacy of the China Initiative, IP problems, and the lack of trust that has been engendered by the excessive politicization of science and technology ties so that we can take on the serious issues across the shared agenda of both countries, including climate change, clean energy, global health, cancer, Alzheimer's disease and food security," he said.